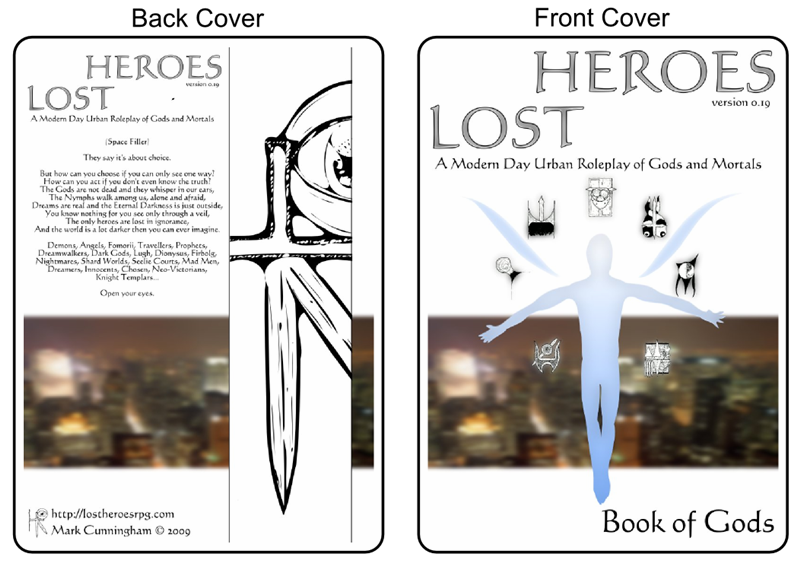 A week into 2010, and I've finished the first draft of "Lost Heroes RPG: Book of the Gods". I just wrote and wrote until I finished and that journey was 13,000+ words long! My. Hopefully parts of are actually decent.
There is a lot to do before I release it publically. I'd love to just put it online in it's current form, warts and all, and let people tell me what's wrong with it. This being a first draft however it'll be unreadable. (Just read my blog for an example on how bad my grammar and readability can get!). It'll be plagued with unnecessary "junk" words ("actually" is one of my particularly overused favourites), mixing up "their" and "there" (I drive my wife mad with this one), past and present tense and "effect" versus "affect". And with such a big load of words to read through, everyone who read it would be just telling me what I already know, but not what I need to hear. At this stage I'd rather hear about if the ideas work, as a whole is it good, do the character concepts grab you, encouragement and so on, not the pedantic grammar and readability issues. (Though if there is anyone out there who wants to read it and willing to ignore the grammar and readability stuff, I'd be more than happy to share it).
I don't have an editor and I don't have the funds to hire one, I'm going to have do it myself. Even if I consider this version to be a "beta", I still need it feeling professional when I share with people. So my plan is to do a read-through and fix up anything I find. Then put it aside for a week and start reading it again. I found this trick really useful, it's like you're reading someone else's work (whose writing style is very familiar).
And once I get through that, I'll read it backwards. Well when I say, read backwards, I mean read the chapters in reverse order. I know that during writing it, some concepts took shape later in those 13,000 and got a name, but apply across the board. This way I can make sure concepts and ideas are consistent throughout the setting.
*phew*
And then I get to lay it out. Again I don't have an art director or a graphic layout guy on hand. So again, I'll be attempting this myself. I'm going to keep it simple however. Rob Lang's guide seems like a very good starting point for me. Plus I have some artistic ability.
So hold on to your britches, Book of the Gods may be out soon… ish.
Related Posts: